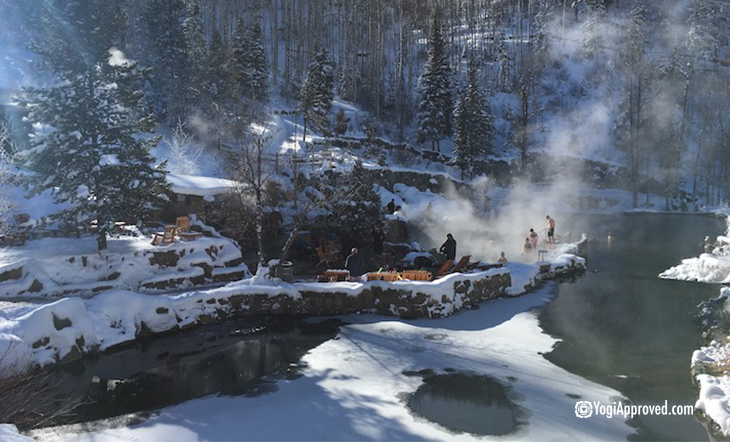 Your Complete Travel Guide to Steamboat Springs, Colorado
One of the friendliest mountain towns in Colorado, Steamboat Springs is nestled in a high valley on the western reaches of the Rocky Mountains. Steamboat is an outdoor enthusiast's heaven with access to National Forests and gorgeous wilderness areas that make Steamboat a memorable travel destination any time of year.
If you're in it for the yoga, check out our complete guide to yoga in Steamboat Springs here.

Here's Your Travel Guide to Adventure in Steamboat Springs
Whether you're heading there for ski season or looking for a summer-weekend getaway, there are plenty of adventures to be had and beautiful nature to see. Let's check out everything this wonderful mountain oasis has to offer.


Wintertime in the 'Boat
In the winter, Steamboat Springs is known for its champagne powder and almost 3,000 acres of skiable terrain. The snow riding in and around Steamboat is some of the best powder and tree skiing in Colorado. Steamboat boasts over 330 inches of annual snowfall and over 160 trails with almost 86% of its terrain rated as intermediate or advanced.

But if you're more of an out-of-bounds type of rider, link up with Steamboat Powdercats for some amazing guided sessions on Buffalo Pass. And for those of you new to the sport, Howelsen Hill offers more tame terrain for beginners with very reasonable lift tickets priced at just $25.

Local's Tip: Get up early and get the groomers! Ride until 10:30-11am, and get lunch early. By the time you finish eating, everyone else is at lunch and you get the sunniest part of the day to enjoy the south facing side of Sunshine Peak mountain.


Summertime and the Living's Easy
Summertime in the Yampa Valley offers a wide variety of activities and adventures for any level of adventurer. From mid-May to late July, peruse wild mountain flowers and from mid-late August into late October, mingle with brilliantly-colored foliage.




Local's Tip: In the summer, the sunrises and sunsets in the high mountains offer a glimpse of the divine, and it is a special time to be awake. Plan to get up early to greet the sun on your hikes, or make sure you're facing west for sunset.


How to Explore Steamboat Springs
There are several ways to get around and adventure in the 'Boat. From biking to paddle boarding, here's what you need to know about transportation in Steamboat.

Steamboat On Pedals
Whether you seek the thrill of downhill on your mountain bike, or enjoy the physical challenge of climbing uphill, Steamboat Mountain offers 50 miles of trail at varying intensities: downhill only, multi-direction, and a bike park.

If you wanna earn your turns, Emerald Mountain near downtown is a multi-use area for uphill and downhill biking, as well as hiking and running. And if you're a roadie, try out Rabbit Ears pass for a great climb with beautiful views of lake Catamount. Or ride south on River Road and watch the grasses of the valley floor dance in the wind.

Steamboat By Foot
For hiking enthusiasts, Steamboat Springs provides countless memorable hikes for all levels in and around the Yampa Valley with short 10-minute drives. Remember, too, that longer drives can take you to more demanding hikes.

Near town, Fish Creek Falls is a must for for amazing photos and invigorating dips in snow-fed streams. There is a second, smaller waterfall about an hour hike up from the trailhead that is a great place for a picnic with your partner.




For a half-day trip, journey to North Routt, make your way to the Steamboat Lake, and climb Hahns Peak. A whole day adventure can take you into South Routt County and the Flat Tops Wilderness Area to cross Devil's Causeway.




Steamboat With a Paddle
In June, the Yampa River winds through the Valley with enough intensity to satisfy most water riders – from SUP boards to kayaks and rubber rafts. Then, sometime in July, the waters grow lazy, and the rafts and kayaks give way to tubers and fly fishermen.

As the waters and the lakes around Steamboat Springs warm up, SUP Yoga is a fun way to beat the summer heat. Paddleboard Adventure Company rents boards in both Steamboat Springs and near Steamboat Lake.

Eat, Drink, and Be Merry
Finally, food! In a traditionally agricultural region, the local food movement has found a welcome home in many of Steamboat's eateries. Over the last five years, Steamboat has also seen 3 micro-breweries added to its list of popular watering holes. While the 'Boat has lots of options for food and drink, we narrowed it down to just a few that spots that are sure please everyone.

Freshies
Located between town and the mountain, Freshies is by far the most vegan/vegetarian friendly of all the breakfast joints in steamboat, sporting options like an acai bowl and an avocado smash.

The T Bar
So close to the mountain you can ski up to your seat, the T Bar is an epic lunch spot at the base of Steamboat Resort. Serving classic and international ski cuisine with a major Swiss influence, it is a must-go for any foodie . . . just don't ring the bell. 😉

Rootz Cafe
You can tell by the name that you're in for come crunchy eats when come into Rootz Cafe. Located in downtown, Rootz gently rocks the boat with its vegetarian/vegan friendly menu. With items like a the buddha belly bowl, and a Sun Salutation juice, yogis are sure to feel right at home!

Cafe Diva
Cafe Diva, located at the base of Steamboat Resort, is one of the town's premier dining establishments. With seasonal menus and a separate menu catering specifically to vegan and vegetarian diners, Diva brings big city style to a small town in the mountains.

Butcherknife Brewing Company
Located in west Steamboat, Butcherknife serves up European-inspired brews made with crystal clear mountain water, in a fun and relaxed atmosphere complete with board games and beer flights.

Mountain Tap Brewery
Located downtown, on Yampa Street, the Mountain Tap offers up 12 different house-made brews and wood-fired eats 6 days a week. Right across the river from Howelsen Hill and Emerald Mountain, you can make a day of it with minimal traveling.

Laundry
Located downtown, the Laundry is known for their speciality cocktails and their smoke-house inspired small plates. Try the fiery margarita, made with hot-pepper-infused tequila. It's sure to warm you up on winter night.

Harwigs L'apogee
Ranking in Wine Enthusiast's top 100 restaurants in the U.S., Harwigs has a bottle of wine for everyone. Specializing in classical French-style cuisine, come to Harwigs for the wine and stay for the gourmet cuisine.


The Hot Springs
Even though you may come to Steamboat Springs when it's cold and snowy, don't forget to bring your swimwear for Steamboat's two different natural hot springs!

Local's Tip: If you can, go the springs while it's still light out. The scenery is gorgeous and it won't be as busy, which means more space and more privacy for you. Be sure to bring water, and take the plunge into the snow melt fed river pool – its cool waters are invigorating to the mind and exhilarating to the senses!

Old Town Hot Springs
Located downtown on the bus route, Old Town Hot Springs has fun for the whole family, with a workout facility, fitness classes, water slides, yoga, and several warm to hot pools fed by a natural hot spring, affectionately known as the heart spring.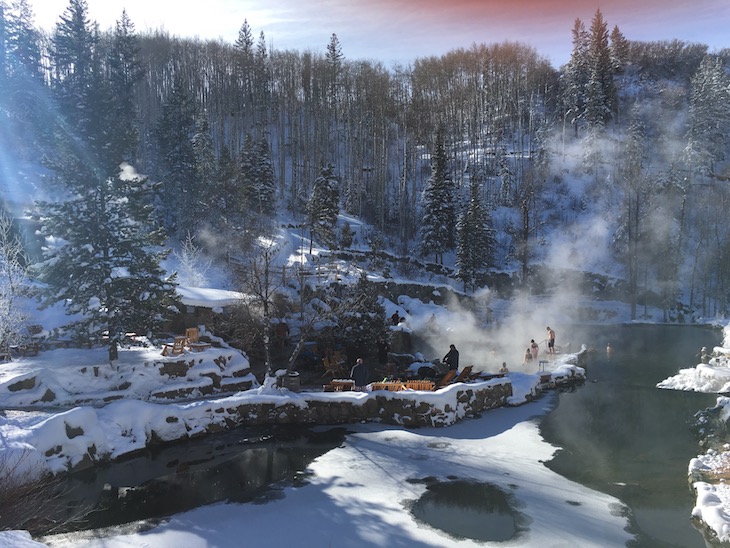 Strawberry Hot Springs
Located about 25 minutes north of downtown, the Strawberry Hot Springs are the perfect way to relax and rejuvenate after any activity, especially air travel. In addition to the springs, you can also get a massage, or stay the night in one of the rustic cabins!

In the winter, you are required to have 4 wheel drive or snow tires if you plan to drive up, but in the summer months any car will do. For an extra fee, which includes your entry to the hot springs, you can ride with one of the shuttle companies that will pick you up and take you up to the springs and back to your lodging.


Don't Miss the Boat! Check Out Steamboat Springs
Whether you live in Colorado or you are just visiting, make sure Steamboat Springs is on your list of places to explore. But, be careful, because lots of people went to Steamboat for a ski vacation in the 90's, and they are still there today! You may join the ranks of us who came to visit and simply never left.

Bonus! The Mud Season Secret: A great time to visit Steamboat Springs is in mid- to late May. It's not as busy this time of year, the weather is mild, and the spring flowers and crabapple trees that line downtown bloom and soak the mainstreet with the honeyed scent of apple blossoms and whirlwinds of petals.

This article has been read 2K+ times. Feelin' the love!