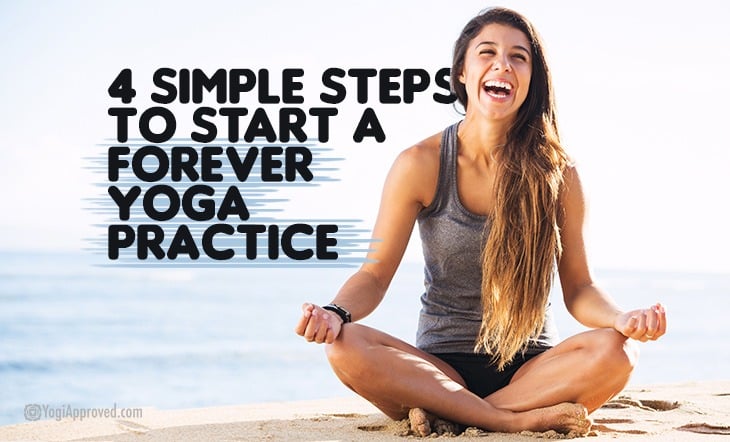 Beginner Yoga: 4 Simple Steps to Start Your Journey
As a yoga instructor, one of the most common questions students ask is how to start a yoga practice. Many people are intimidated by the thought of practicing yoga in a studio and many people are often concerned with not knowing the poses or if they are flexible enough.

There's no prerequisite to begin a yoga practice. You do not need to know the name of yoga poses and you certainly don't have to find a full split in your first class. Yoga teaches us so much more than how to become flexible or the name of poses. A good yoga teacher will guide you in and out of each yoga pose. A great teacher will also give you the tools you need to have a successful yoga practice.

There's no prerequisite to begin a yoga practice

A yoga practice is one of the most transformational journeys you can embark on. The list of yoga benefits is a long one, and the absolute best time to get started is right now. And with these tips, you will be on your way to begin your transformation yoga practice.

Now that you're ready to begin your yoga journey, follow these 4 steps:
1. Choose Comfortable Yoga Clothes
When you first begin your yoga journey, what to wear can be a daunting question. Unlike most of what you've seen online, in magazines or on Instagram, you don't need expensive yoga pants to start a yoga practice. What you do need is to feel comfortable and confident, so choose clothing that suits your personality and style of yoga.

Check out a few of the main yoga styles below to find the right yogawear for you:

Hot Yoga: Prepare to Sweat
If you're stepping into a hot yoga class, it will be somewhere between 85-105 degrees with about 40% humidity. You're going to sweat, which is why it's important to choose clothing made of light materials that are quick-drying and sweat-wicking. Many yogis also prefer to wear a headband.

Check out Hot Yoga Clothing You'll Love Getting Sweaty In for some amazing hot yoga clothing options.

Hatha and Restorative Yoga: Prepare to Relax
Hatha and Restorative Yoga are two styles that cultivate deep relaxation physically and mentally. Consider wearing loose-fitting yogawear and perhaps bringing a sweater or blanket for your savasana. Just be sure you can move with ease in your clothing choice.

Vinyasa and Power Yoga: Prepare to Move
While loose-fitting clothing is an option when practicing Vinyasa and Power Yoga, consider wearing form-fitting clothing so you can easily check your alignment. Yoga leggings or capris paired with a comfortable sports bra or tank top is all you need!

Check out 8 Supportive and Stylish Sports Bras from A Cups to DDs to help you stay comfortable while practicing.


2. Find Your Favorite Yoga Mat
Different yoga mats offer different features based on the type of yoga you practice. In this sense, yoga mats are not a one-size-fits-all. When in doubt, choose a quality yoga mat that can travel between disciplines, or rent a mat from your local studio until you find your yoga mat soul mate.

Check out a few of the main yoga styles below to find the right yoga mat for you:

Hot Yoga: Get a Grip
For hot yoga, choose a mat that is non-slip. Look for a mat that offers great traction and dries quickly. There's a wide selection of grippy yoga mats out there to fit your budget and needs, so buy what you can afford to start with and upgrade as you advance.

Hatha and Restorative Yoga: Get Comfortable
For Hatha and Restorative Yoga, it's all about finding comfort, so choose a mat that is between 5mm-10mm thick for cushion. Restorative Yoga features many poses that are held for several minutes, which is why thicker mats are ideal. Look for mats that provide enough support for your joints and help you build strength and balance as you move.

Vinyasa and Power Yoga: Get Active
A good mat for Vinyasa and Power Yoga will fall somewhere between the Hatha/Restorative and Hot Yoga mat. For this style, here are features to look for: a grippy, textured surface, lightweight, non-slip, antimicrobial, and medium thickness. Essentially, you're looking for the Goldilocks mat with this style of yoga.

For more guidance, check out How to Find the Perfect Mat for Your Practice.


3. Embrace the Yoga Props
At any level, yoga props will complement and enhance your practice. They aid in balance and alignment, support you in certain poses, and increase flexibility. Yoga props significantly deepen your practice; recognizing when you need support and honoring that is the sign of an open-minded yogi. Stay open and aware of when you can use them to enrich your time on the mat.

Check out a few yoga props and how to use them:

Yoga Blocks: Align
Blocks are excellent props for beginner and advanced yogis. Blocks are a great props to help find proper alignment in many yoga poses and they make difficult poses much more accessible. Keep two blocks close at hand during your practice.

Watch this Restorative Yoga Sequence Video to learn how to incorporate yoga blocks into your practice.

Yoga Straps: Lengthen
Yoga straps give your body the extra length or space needed to explore poses and still maintain the integrity of the pose. Yoga straps increase the intensity of the stretch, and also help create space in the body and lead to deeper flexibility over time.

Watch 4 Ways to Deepen Your Practice With a Yoga Strap to learn more about how to use yoga straps.


4. Yoga Studios vs. Online Yoga: Explore Places to Practice
It's important to find studios and teachers that you resonate with. Give yourself time to try different yoga styles and teachers until you find what works best for you. Your connections to studios and teachers may change over time, so remain open.

Find classes, teachers, and studios in your area with the following resources:

ClassPass
This is an excellent way to sample classes at different yoga studios in your area. ClassPass gives you access to multiple studios so you can easily try new classes and teachers without breaking the bank.

YogaTrail
With YogaTrail, you can follow your favorite teachers and keep track of their class schedules and workshops. Use YogaTrail to find classes in your area and search classes by level and style.

MindBody App
MindBody is a software program used by many yoga studios to keep track of schedules and teachers. MindBody's app makes it easy to search and sign up for yoga classes. You can also personalize the app and bookmark your favorite studios.

Online Yoga Resources
With online yoga, you can practice anytime, anywhere. This is an excellent place to start for beginner yogis. Many people prefer to practice from the comfort of their own home. There is an abundance of online yoga offerings.


Try a variety of free yoga tutorial videos on the YouAligned YouTube channel, and for online courses that dive deeper into specific disciplines, check out Your Studio.

And most importantly, remember to be gentle and patient with yourself. Give yourself time and you will soon see the practice unfolding within you. Your new yoga practice will unveil many things about you, and being in the right mindspace to notice will help you gain insight.

Start your poses with one breath per movement, be present and listen to what your mind and body tell you. You'll be amazed at what you discover.

Take this Into to Yoga Program with Leah Sugerman
Beginner Yoga Basics is a 6-class yoga program designed by international yoga teacher trainer Leah Sugerman. In this program, you will learn key foundational poses, alignment and anatomy as well as the history and philosophy behind the yoga practice.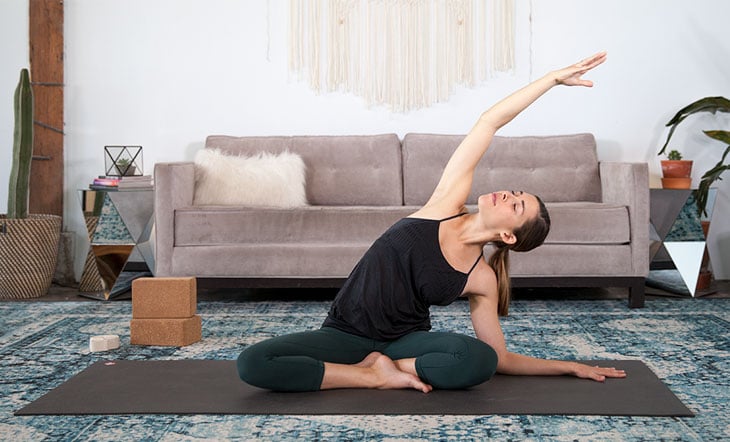 This article has been read 8K+ times. Feelin' the love!